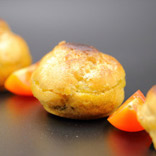 Cabbage Rolls Stuffed with Snails
Cabbage Rolls Stuffed with Snails
Cabbage Rolls Stuffed with Snails – Pack of 12
Cabbage Rolls Stuffed with Snails
•
How to cook: 10 minutes at 180°C
•
Ideal as an hors d'oeuvre 
•
100% organic and produced in France, from snails raised at our farm in Vendée
•
Fresh product - Sold in packs of 12
•
Product available exclusively from our shop.
By buying this product you can collect up to 8 loyalty points. Accumulate 200 loyalty points and get a voucher of 8 €
Ingredients
•
Cabbage rolls stuffed with a snail in a mixture of garlic and parsley butter
•
Organic snails from Vendée, raised virtually exclusively on plants such as forage radish and mustard, for extra tenderness and flavour. 
•
In order to conserve the authentic character of our snails, they are prepared using top quality organic ingredients. 
•
Use-by date of five days.